De Stress Diva in the Kitchen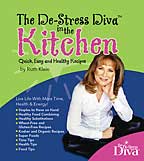 The 

De-Stress Diva ™ in the Kitchen: Quick, Easy and Healthy Recipes

 

 
America's De-Stress Diva ™ arrives in your kitchen
with Ruth Klein's new cookbook that is perfect for anyone who is pressed for time, 
but still wants to make healthy meals ... but fast! 
Live life with more time, health and energy with this inviting new 
guide to healthy recipes, 'super foods,' 
good health and great time -saving tips!  From One Satisfied Reader: 
"The recipes are easy, healthy and fast, plus now I know what to 
keep stocked in my cupboard with just the right ingredients to always have on hand.
But even more, 

I enjoyed Ruth's step-by-step guide to save time and enjoy every day! 
In fact, I've already 

saved time with my holiday shopping, ordering more 
copies of this wonderful book
to wrap and send to my friends and relatives who could use her 
great help in the kitchen!"